The C13 Cat Engine has proven itself during field tests and other scenarios. It has to power heavy machinery as it rolls over rough terrain. Most bulldozers and other machines will use hydraulic lifts for repeated actions. But the Caterpillar model is also designed for reliability during operation. Preliminary designs and subtle revisions have made adjustments to the original concept. The result is a better approach to moving Cat vehicles across construction sites. The Caterpillar name is associated with brand recognition and customer loyalty. Schematics are available through the manufacturer, which should explain the C13 Cat engine concept to people.
External Features For The C13
Manufacturers issue an inline-6 engine concept for its production. Large bore engines do have significant advantages over their counterparts. Estimates suggest that the inline-6 has a fuel displacement size of around 12.5 liters. That will carry plenty of liquid fuel to keep the machine moving on construction grounds.
Debate is over whether the C13 Cat Engine has sacrificed too much in fuel efficiency. It is 2007 compliant with existing standards among heavy machinery manufacturers. But newer models are placing a greater emphasis on fuel conservation. The large bore engine design will burn up plenty of fuel during its operation. Site leaders consider MPG to be a significant factor, but want to move their trucks over rough terrain.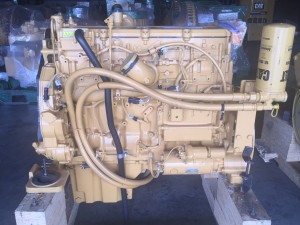 Engine Considerations While In Use
The 4 stroke concept ensures constant motion and power production during operation. A C13 Cat Engine will output a considerable amount of force while running. The diesel fuel source should burn consistently, which prevents the engine from stuttering as the vehicle moves forward. Diesel is the preferred fuel option for construction site operators.
Typically, the Caterpillar Specifications rate engine performance at between 1800 – 2100 RPM. That is far and above the standard output for a consumer vehicle. Given the heavy weight of construction machinery, Caterpillar requires that level of performance. C13 Caterpillar Engines for Sale.
Collaborations Between Manufacturers
A standard ACERT model is used to build engines, with a few adjustments. Caterpillar has collaborated with Peterbuilt during the initial design stages. Heavy engine production requires ample space and industrial scale factories. The partnership with Cat and Peterbuilt 379 equipped engines improved the efficiency of the production process. That has reduced the final cost of parts manufacturing and made the C13 Cat Engine an affordable choice. Buyers may contact the office for introductory consults, including a schematic layout offered in a pamphlet format.
Important Specifications To Follow
The diesel engine design has a B50 life of an expected one million miles. That is a testament to its durability and reliability when on the site grounds. New compliance standards have been introduced since 2007, encouraging repairs and upgrades. Caterpillar ensures high quality models that meet existing production standards. A few complaints are emerging over breakdowns within the C13 Cat Engine. Customers have expressed frustration over failed repairs, even using standard replacement parts. Formal complaints have spurred on official statements from Caterpillar on upgrades with C15's.